What The World Would Look Like If Dipset Never Existed?
Do You Dip Dip, Or You Set Set?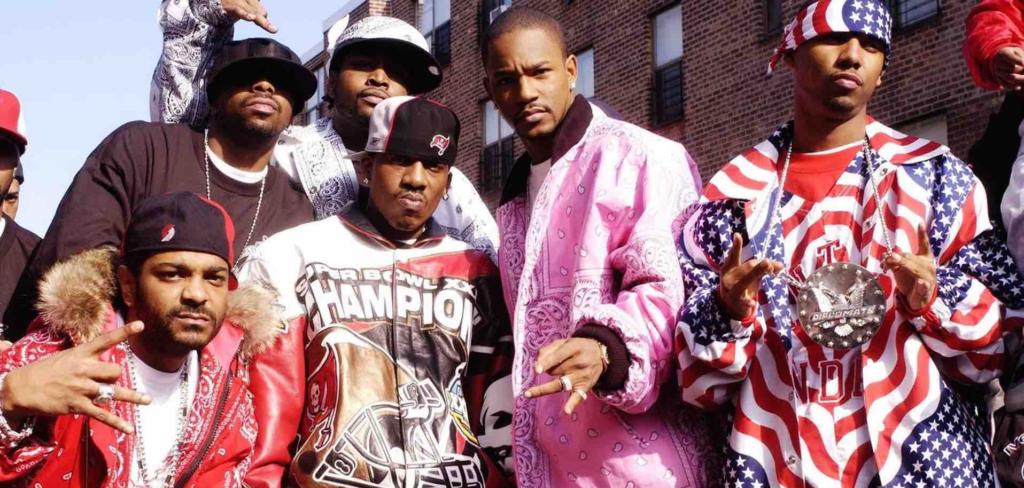 Dipset : Your Top 5 Most Influential Hip Hop Group Period!
Dipset was, is and will forever be one of the most influential hip hop group that ever existed. I was watching the back and forth between Jim Jones and Cam'ron and I couldn't help but reminisce about how the goold days. I was thinking about how amazing would it be for them to just put certain things on the side and just give us that good old dipset back.
Read Also : Kendrick Lamar Took Us To The Last Supper With The Sickest Visuals Of The Year (…So Far)
Dipset: More Than Music
From our slangs, fashion tastes, what was blasting through our speakers on repeat and even a lof of the movies that we enjoyed coming up wouldn't be possible if it wasn't for Dipset. Juelz Santana, Jim Jones and especially Cam'ron wrote their own page of hip hop's history; we can't dispute that (even if you tried)
Today we will overview a different things that wouldn't be the same if it wasn't for Dipset and their early influences on fashion, music & trends at large.
1 Paid In Full The Movie
Paid in full is an all time classic as you know. Even though Cam'ron was the only member of dipset acting in the movie, it's once again that whole "Harlem vibe" that he brought to the movie that made it successful.
The movie is about the real life story of Alpo Martinez and his associates in the 80's; so yes nobody than Cam'ron could've play it better. This is that same spirit, hustler mentality, "Harlem state of mind" that Cam'ron and the whole dipset camp fed us for years and years.
2 Bandanas
Before you throw me all kind of tomatoes about who brought the bandanas to hip hop culture give a me second to provide you facts about bandanas at large. Bandanas are the type of accessories that might never go out of style regardless of the era you're in, when people just thought they were fed up with it there is ALWAYS someone bringing it back (Thank you Asap Rocky).
You would lie to yourself if you don't admit that at least once in your teenage life or maybe up to now, you tried to have your bandana tied perfectly to the side of your head like Juelz Santana did. Believe it or not but they hand bandanas EVERYWHERE, different colours, on their wrists, their head or neck and a thousand ways to rock them.
3 Pelle Pelle,Avirex Coats..& Literally All Their Coats!
Dipset had those kind of coats that would make you rush to your local urban boutiques only to come back with a frown when you figured out that you couldn't get them. That "happy 4th of july" outfit from Juelz santana is legendary at this point right?
4 Wearing Pink
Yes Cam'ron made it «cool» to wear pink whether you admit or not. As always when it comes to his fashion tastes, the dipset head honcho always go the EXTRA mile. The "I really mean it" video was one of the best instrumental in hop hop's history and also a HUGE fashion statement when Killa made his entrance.
5 Freestyles
Dipset has a flawless catalog of freestyles from their early beginning up to now. Dipset has made freestyle something entertainning to the point where they could be listened to as acutal songs.
This B.E.T Rapcity cypher is one of my all time favourite. I mean Juelz got busy as always, Cam'ron spitting while counting money is a classic and Jim Jones as a hype man is what puts it all together like always!
6 All The Artists They've Put On
You would be surprised how many artists got their first start either with dispet or by doing songs with them. From Chris Brown, Max B and especially the brigdge they made for southern artists like Paul Wall, T.I & The Game.
7 Slangs
Dipset had that power to make everything stick to your head even when you didn't want it to. You can definitely bring in all the illuminati theories here because of the way "Juelz Dip Dip, Santana Set Set" never left us since we were teenagers.
Everytime they did an appearance on tv, radio or video clips it mean't something new was coming up. Slangs like : "You Mad?", "No Homo", "You Smell Me?", "Ya Dig" & "Pause" were part of my day to day urban dictionnary (na mean).
8 Epic Instrumentals
If you're a true dipset fan, regardless of hearing Juelz Santana, Jim Jones or Cam'ron's voice at the beginning; you just know when it's a dipset beat. They used to have those raw instrumentals that somehow someway always made you thought about "royalty" when you listen to them.
We all owe a standing ovation to their producers that made timeless classics like "Dipset Anthem", "Oh Boy" or "I really mean it".
9 The Legendary Rap Beefs
We're not saying that they invented rap beefs since it's been a part of hip hop culture forever.Our point here is the fact that in life there's "beef" and there is a "Dipset beef".
The Cam'ron/Jay-z and Roca-fella split saga is the best example of how far their beefs could go. Dipset made rap beef something funny with sketches, side jokes and Cam'ron's master degree at throwing shade.
Remember what he said to Jay Z in "You Gotta Love It" :
How's the king of New York rocking sandals with jeans? Open toe sandals with chancletas with jeans on How's the king of New York rocking sandals with jeans and he 42 years old?
Watch Jim Jones's Interview About The Dipset Fall Out.
Watch Cam'Ron Response To Jim Jones About The Dipset Fall Out.
Do you think Jim Jones & Cam'ron will ever move on each other and put Dipset back together?
Sports Experts Might Be Your Go To For Your Last Minute Valentine's Day Gifts
A Different Kind Of Valentine's Day
Sports Experts' Valentine's Day Guide Is Your Life Saver This Year
Whether you believe in it or not, Valentine's Day is your occasion to show appreciation for your significant other. Perhaps, when you've went through tons of flowers and chocolate; looking at Sports Experts as a potential place for a nice gift is not that farfetched.
To make it easy for you to navigate through their wide selection. They've put together a guide that brings together some of ideas for him and her.
To make it even easier for our readers, we've handpicked our favorite items that should make it to whatever you have planned on February 14th.
#1 Fitbit Versa
Price : 199,99$
If I'm with you, I want you be happy, fulfilled and most of all H-E-A-L-T-H-Y . That's exactly what you get with the Fitbit versa, a slick design and all the functionalities to take your fitness to the next level. It doesn't hurt that the watch is currently on discount either.
#2 Skates
Price Range: 41,99$- 159,99$
There's something about outdoor activities during the winter time. You won't miss by getting yourself his/hers pairs of skates. There are plenty skate rinks sprinkled around the city just waiting for you.
#3  Adidas Matching Outfits
Price Range: 54,99$- 104,99$
It's a "To Each His Own" moment but if that's what you're into or if you just want to spice things up your way to your date, this might be a good surprise.
#4  A Gopro
Price: 529,99 $
First off, it was a shocker to me that Sports Experts actually has Gopros but if you want to capture moments with your significant other and let him or her explore their creativity, this is the one!
#5 A Yoga Matte
Price: 69,99$
Let's try something different for 2021, how about trading your usual dinner at home with candles for a nice and serene yoga session. You have to switch things up sometimes ladies and gents.
For more ideas and suggestions, go check their guide on the Sports Experts website.
The End Of An Era And A New Start: Dress To Kill Magazine Goes Digital
A New World Order
I hate to break it down to you so abruptly but the world is changing, the world as we knew it, the way we consume, the way we think and even that good old Dress To Kill magazine is going through it.
As a young and inexperienced blogger back in 2016, I felt deep in my earth that paper was a dying medium and that the internet was about to carry the torch.
a hundreds of blog posts later, multiple attempts at building an online presence and literally trying to digitize the aesthetics & creativity I saw in magazines growing up.
I must admit 2 things: 1. what it takes to make fashion or information enjoyable is very hard to put together and 2 building an audience on or offline is a GREAT feat.
I grew to admire and respect my peers in traditional media because they made the most out of nothing at a time where Facebook and all those outlets were not a thing.
In case you didn't know, Dress To Kill magazine is not your average magazine by any shape or form.
Promoting Canadian art and fashion from province to province was something seemingly unthinkable but they got it done.
From iconic covers with Lenny Kravitz and more iconic nights at le Mount Stephen to bring the whole industry under the same roof, DTK got it done.
Don't take what I'm saying as a farewell note because today actually mark a rebirth for the publication.
Indeed, while the world was going all over the place, they went on a well thought out rebrand.
As you might have guessed, the biggest take away from this is the stoppage of the paper version of the magazine.
The focus is now digital but as I told you earlier, DTK doesn't go halfway.
Their new platform will include an online boutique which once again is going to focus on shedding light on Canadian creators for men and women.
Do you think more magazines are going to make a full transition to digital?
For More Updates About Fashion
Follow Us On Instagram
https://www.instagram.com/p/CDerH1DgJAR/
We Ask A Personal Development Coach How To Overcome The Ins and Outs Of The Crisis
It's all about your point of view
Everything You Need to Know Through The Lens Of A Personal Development Coach
I'm always amazed at how people like to stigmatize the role or relevance of a personal development coach. They're quick to label it a scam, a fad, something based on nothing but little they did know, they're coaches around the world who impacts millions and millions of people in a life changing way. I was looking for the equivalent of a Tony Robbins in Quebec, my research undoubtedly came back to the same name: Marc Dumaine.
Mr Dumaine is more than a personal development coach, he's a man with a story.
Not your average story either. From overcoming alcohol and drug abuse to obtaining a MBA to running campaigns for some of the biggest corporations in this province. Here's a man of many battles.
Honorable mention too, these days Marc is focused on creating an international platform to impact as many people he possibly can.
The bottom line is this. This personal development coach is not unfamiliar with trials and tribulations, changes and transitions.
That's why to me, in a time like this where everything is doing a 180 degree, I had to pick his brain and ask him how can you and I get over.
In this Q&A, we indeed ask Marc Dumaine about several things such as how to bounce back from the crisis, his keys to success and much more.
QUESTIONS FOR MARC DUMAINE
#1 How did you figure yourself out as a future entrepreneur and what was the key factor that made you take that route?
I was always an artist at heart and found that I didn't it in any mole.  After completing my MBA, I realized that my biggest assets were my differences.  I decided at that moment to stop following what people expected from me and launched my own business.  To me being an entrepreneur is an art form in itself. I have never regretted that choice since I launched Asana Coaching 10 years ago.
#2 How can someone go from being self-employed to an entrepreneur making money without physically being there?
The internet is booming with opportunities right now ! Even with the COVID-19, there is a redefinition of the way people consume products and services ! It is a TIME for being creative and look into endless opportunities ! Get out of our comfort zone and start being inspired by people who are already doing it ! Then, build yourself a right game plan with an amazing branding, and you are all set for the best adventure of your life. 

#3 What are the pros and cons of being a consultant?
The pros are definitely the freedom it gives you in terms of choosing your schedule, the services you want to offer, the different partnerships you can build and finally, having a real impact in your client's lives !
The biggest con I think is the loneliness that comes from working on your own and often alone ! You also have the insecurity of never having a stable income.  This life is not made for everybody ! 
#4 What would be the achievement you're most proud of and why?
The biggest achievement for me is to have never given up ! In my 10 years as an entrepreneur, I could have gone bankrupt a few times, I could have been discouraged for so many reasons… but my faith in what I was doing kept me going ! It is a hard industry where you are competing against so many people and you have to realize that you have never made it ! You have to renew yourself every day, offer the top of the top and always evolve as a human being and expert ! I am very proud to still be there today, stronger than ever.
#5 What entrepreneurs should learn from the Coronavirus crisis?
I think we have to realize that we can't just keep running all the time ! The anxiety, the stress and the adrenaline are very dangerous ! We talk a lot of profitability, performance but we tend to forget to talk about happiness and well-being ! I hope this time brings more humanity into entrepreneurs' lives ! 
#6 Where do you see yourself in 5 years from now?
Without wanting to sound over the top, I truly believe that I will have built my brand into an international platform that will include wellness retreats worldwide, TV shows, a one-man show, a few books and real estate projects ! No pressure ! LOL Seriously, I am a kid at heart and developing my business is the best adventure that life has given me ! Watch out world, I am coming. 🙂
#7 What would be the main thing entrepreneurs around the world should learn from you?
That I almost died three times from drugs and alcohol ! That I was the mos unhappy and insecure person for the two thirds of my life ! That i was bullied and rejected for being different ! And in the end, I am the living proof that anything is possible when you don't give up on yourself and your life ! 
#8 What would be your 3 keys to success ?
1- You are 100% responsible for your choices, attitude, perceptions and mindset
2- There are no mistakes, only feedback !
3- Only accept what's 10/10 for you ! That is a sign that you are treating yourself life the most important person on your life.
If you're interested in seeing him in action, he's doing a Facebook live tonight at 7:30 pm and if you're looking for some light in these dark times, that's the place to be.
To know more about Marc Dumaine and his journey as a personal developement coach follow him here
Instagram